Understanding DHI
Yeah, I definately could have used a book like that!
With does being bred this time of year, the thought of Spring kidding is forefront in a lot of folk's minds...and invariably with kidding, there's thought toward the milk.
Have you considered putting your does on test then found yourself in the next instant thinking, "Oh my...where to EVEN begin."?
Well, you're not the first to feel that way. But I want to let you know, it's absolutley NOT as hard as it seems. Not even close.
If you're involved with ADGA you know there are several programs that you and your goats can be involved in...DHI milk testing being one. And whether you dam raise or have your kids on the bottle, DHI is completely do-able. (Link to DHI while Dam-Raising.)
Before we begin, let me start by sharing a handful of important acronyms and definitions you will see and (subsequently) use in your farm's DHI milk testing program. After that section I'll add (clickable) links to a few good DHIA Facebook groups you can join for additional help, learning, and encouragement. Then finally, as we delve into it, I'll share links to other explainations of DHI...hoping the assemblage will fill in any gaps I may leave.

DEFINITIONS
The DHI Program is a system of measuring a 240 or 305 day lactation by obtaining monthly (or recurrent) milk weights and samples, from each fresh doe on your farm, and having it tested/recorded for milk volume and components (ie. butter fat, protein). Does (and their progeny) meeting set standards are awarded for those accomplishments. To give you a little bit of an idea of possible goals, here is a chart showing DHIR Requirements for Advanced Registry. And as symbols and letters can be confusing on stat sheets and pedigrees, here's help in understanding Milk Production & Show Pedigree Abbreviations for ADGA & AGS and Reading an ADGA Performance Pedigree.
DHI stands for Dairy Herd Improvement and though most generally associated with milk production and testing, DHI encompasses many programs designed to help you (the breeder) improve your dairy herd...whether they be cattle, sheep, or goats.
DHIR stands for Dairy Herd Improvement Registry. These registries are ADGA (American Dairy Goat Association), AGS (American Goat Society), and NDGA (Nigerian Dwarf Goat Association). They are the registry side of DHI, and they're a nationally recognized system for evaluating dairy records. My DHIR is ADGA.
Note: In milk testing some folks are not registered with any particular Association, they milk test because they want to know what a particular animal in their herd is producing. Information is used for themselves and there's nothing wrong with that. (All milk is tested/recorded the same.) Being registered with an Association does however bring an added value to your efforts. Registries not only keep your records, but they award animals for pounds, fat, and protein produced and that's an added selling feature (for the Dam and any progeny). We highly recommend milk testing within a DHIR.
DHIA stands for Diary Herd Improvement Association. These Associations are non-profit. For those involved in milk testing, there is a yearly fee for this help and data/record keeping. These are the people that you'll work most closely with in getting your milk test numbers recorded and getting questions answered. My DHIA is Meadowlark Testing Association.
DRPC stands for Dairy Records Processing Center. They process the data collected on test day and return reports to you as well as forwards them to USDA which in turn, forwards completed lactation information to ADGA. My DRPC is DHI Provo.

RECOMMENDED FACEBOOK GROUPS




Okay, with that all out of the way, let's open up our DHI for Dummies and take a look at milk testing in layman's terms.
As with anything, I like to do all my research and planning before jumping in. I carefully read all I could trying to get a handle on, not only what it is, but all it requires. For me, this reader-friendly explanation was the best help.
I started off reading ADGA's 10 Basic Steps and DHIR Frequently Asked Questions along with several other information pages they have, but in using words I didn't know/understand (as a beginner) they left me confused and with the feeling that having your herd "on test" was a rather colossal ordeal. (*Since writing this, ADGA has updated/improved their DHIR FAQs page.)
Since then I have found a few other good posts on the subject. Those can be found at Feather and Scale Farm, CalDairyGoats, American Goat Society, and The Miniature Goat Registry. Having a Mentor is hugely beneficial, but if that isn't an option then read all you can from the sources that are available online and ask questions from your DHIA. That's what I did.
After research, my next top consideration is...capability. Financially (because we're a one-income home), geographically (since we live a long ways out), and physically (as I'm over 50 and have to deal with some age-acquired limitations). Once the dust settled in my mind on all that, I moved forward.
So what are the main necessary items to do DHI? You'll need a milk bucket, 1 oz stainless steel dipper, and a scale (that has been checked/certified for accuracy).
Note: You can send your scale in to your DHIA and have it checked/calibrated (for a small fee) and they mail it back to you. Another option is to take it to a Scale Calibration Service (usually a much higher fee). Or, if you have a local Post Office that is willing to test and fill out a Scale Calibration Verification Form to send to your DHIA, that'll work just as well...and they do it for FREE.
So, needed items? Milk bucket, dipper, and scale.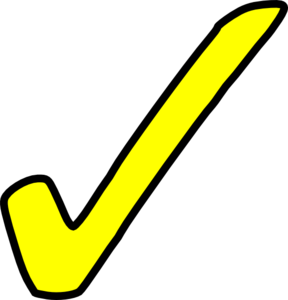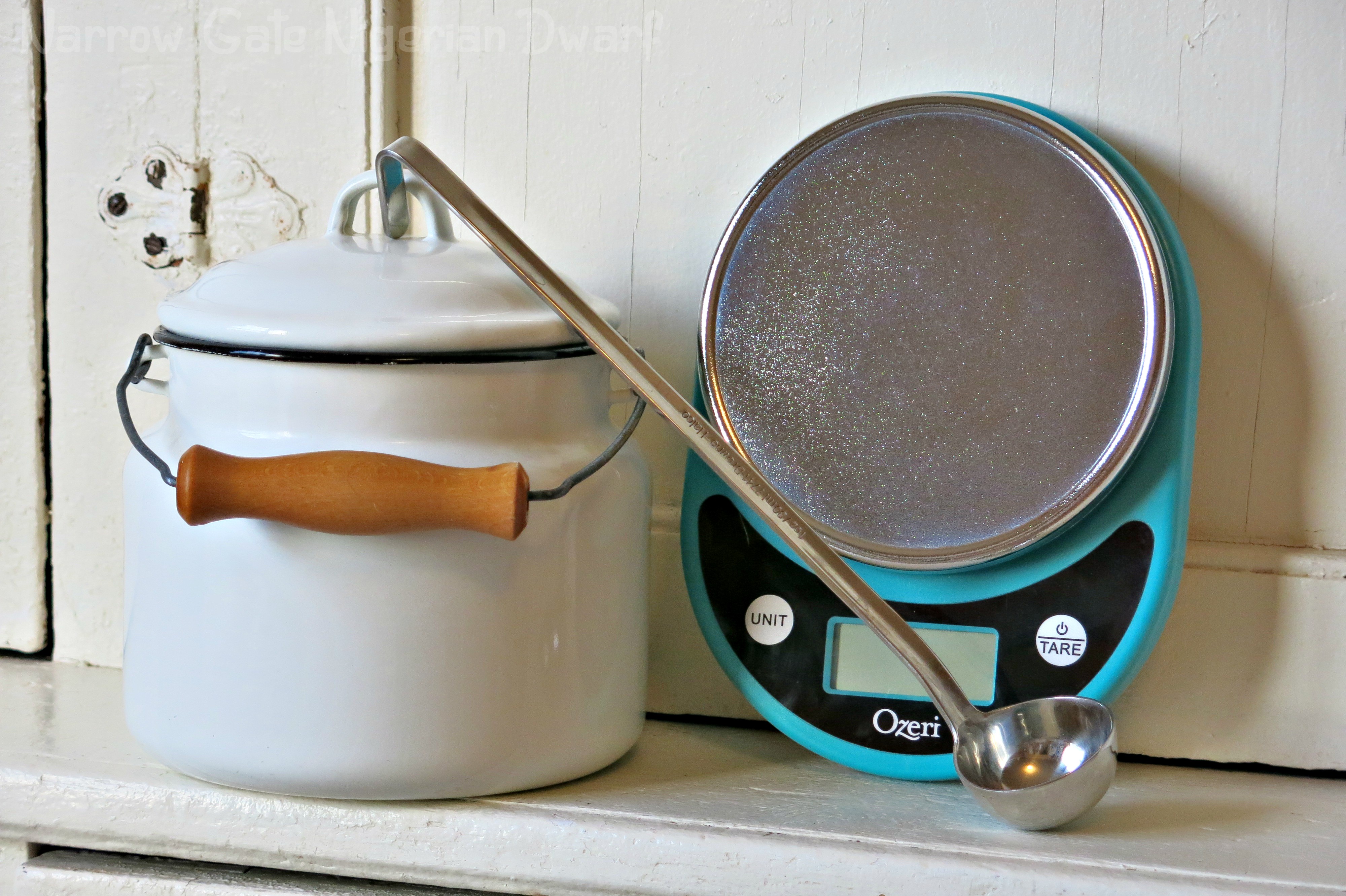 Oh...and this (freshened doe with ID collar).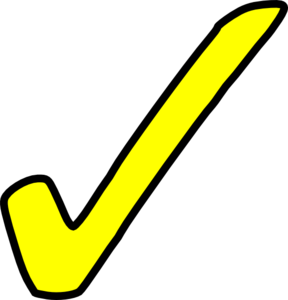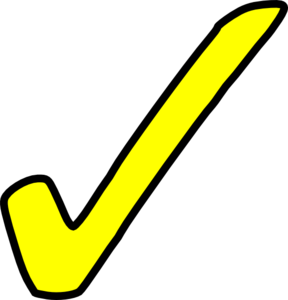 Once you have the supplies and expectation of a doe in milk, then you're ready to choose what kind of DHIR Plan is right for you.
Here's a list, along with a brief explaintion and what that will require and look like at your farm.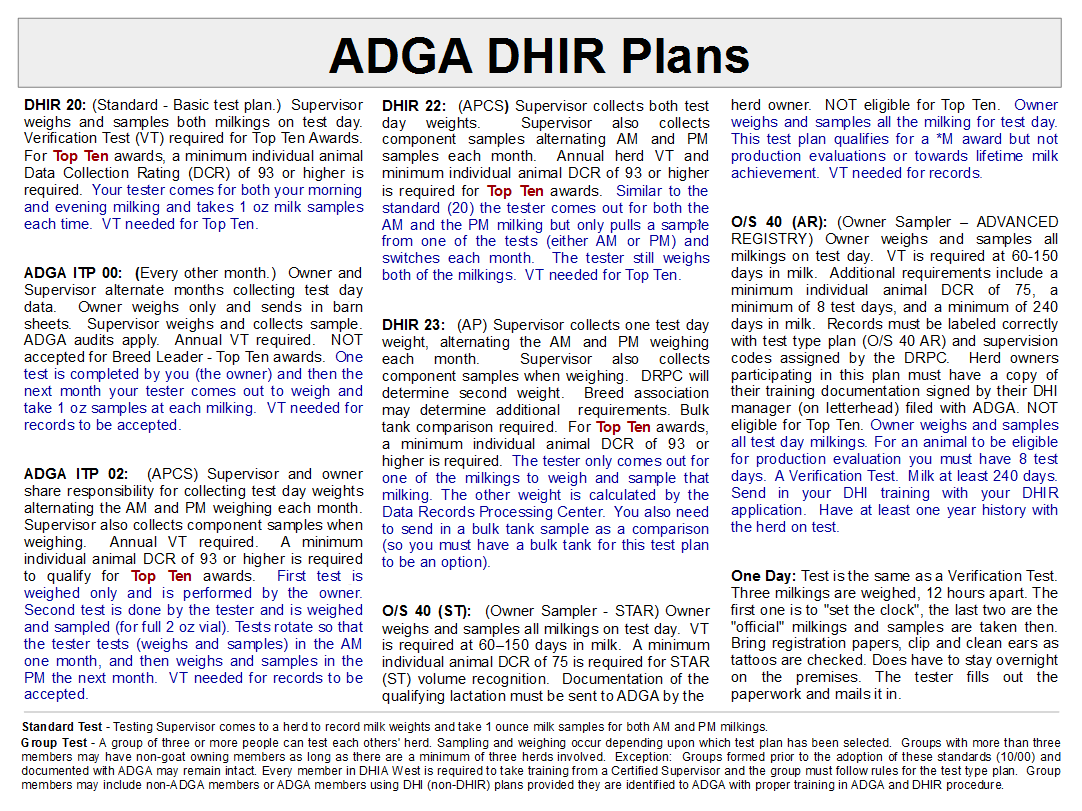 After choosing a plan, you're ready to select a DHIA to work with. Most folks choose one that is near them. Here's a list.
Your DHIA will be the one to issue you a "herd number" and "tester number", and will be the one to keep records and submit an annual report to ADGA Qualtiy Assurance Program Director for you.
I see them as my advocate (they stand in my stead, they're my go-between). I send them a certain amount of monies and they make sure everything is correct, papers get sent where they need to be, and that everyone that needs to be paid...gets paid. (No trying to figure out who needs what/when, no sending a check here, and another there...they take care of it all.)
They are also the ones that will train you on how to fill out your Cow Barn Sheet and Herd Barn Sheet, and how to conduct your monthly Milk Test and yearly Verification Test (if your plan requires one). If you have question/concerns they are the folks to help you. They want you to succeed and are a tremendous asset in doing that.
After choosing a Plan and DHIA, a great first step is calling them and letting them know your desire to be involved in DHI milk production testing. They'll share pricing with you, send your training material, get the ball rolling with the DRPC they use, and contact the Lab you'll be sending your milk samples to. They'll also give helpful suggestions on what to do next and (most importantly) answer any questions you may still have.
With those things in order...choosing a Plan, selecting/calling your DHIA...now is a good time to fill out a herd DHIR Application with ADGA and contact them. At this early stage of enrollment you probably will not have your Herd and Tester Number to give them...don't worry, after you take your test you'll be assigned those and can simply call them back with that information.
Your training materials will come in the mail shortly and (depending on which plan you choose) you and your Supervisor or Verification Tester can start studying them to prepare for your short (open book) test. Here are a couple examples of what your test may look like...True/False or Multiple Choice.
Once the test is completed, you'll be assigned your Herd and Tester Number.
It's a good place to note this here. The test is NOT "graded", they're simply wanting to see how much you understood of the booklet and video, and if you miss something it'll show them where you might need further explaination.
Shortly after, your DRPC (Dairy Records Processing Center) will send you your first Cow Barn, Herd Barn, and Daily Report sheets.
This is what your Cow Barn/Herd Barn sheets look like from DHI Provo. If you use another DRPC they may have sheets that look a little different, however the information to be recorded and filled in will be the same. (For Langston DHIA you can see record sheets and an explaination on Dairy Goat DHI - how we do our milk testing with Langston or watch Part 1, Part 2, Part 3, Part 4 video training on YouTube.)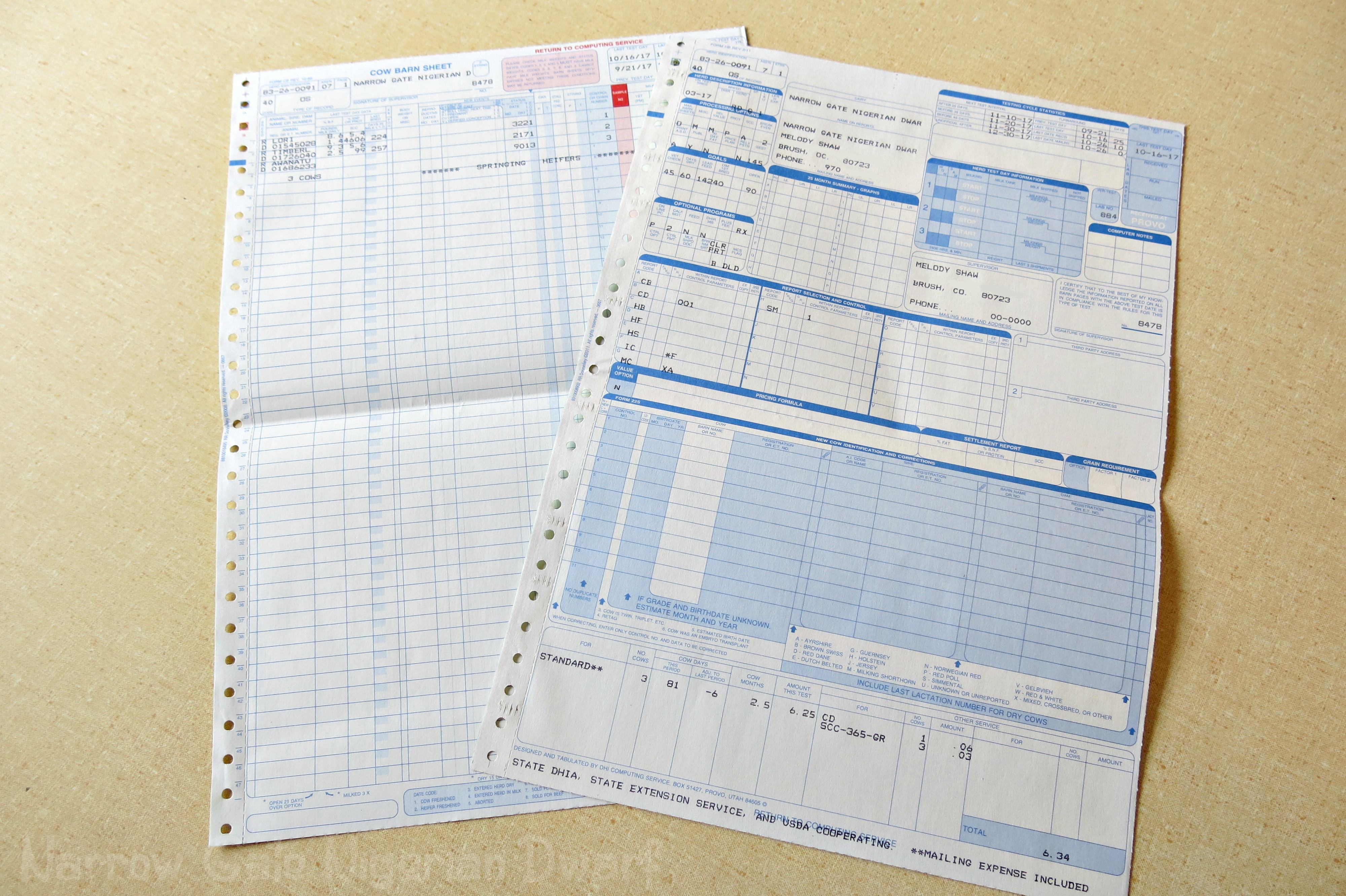 And here is your Daily Report sheet. This is optional, but is handy for recording any information related to your herd (ie. vacciantions, health problems, worming, breeding, etc.).
You can take a look at each and fill portions out according to the step-by-step recommendations/instructions you received in your training material. (After initial filing, they'll then come to you already filled/typed in, as you can see in the above Cow Barn/Herd Barn sheets of mine.)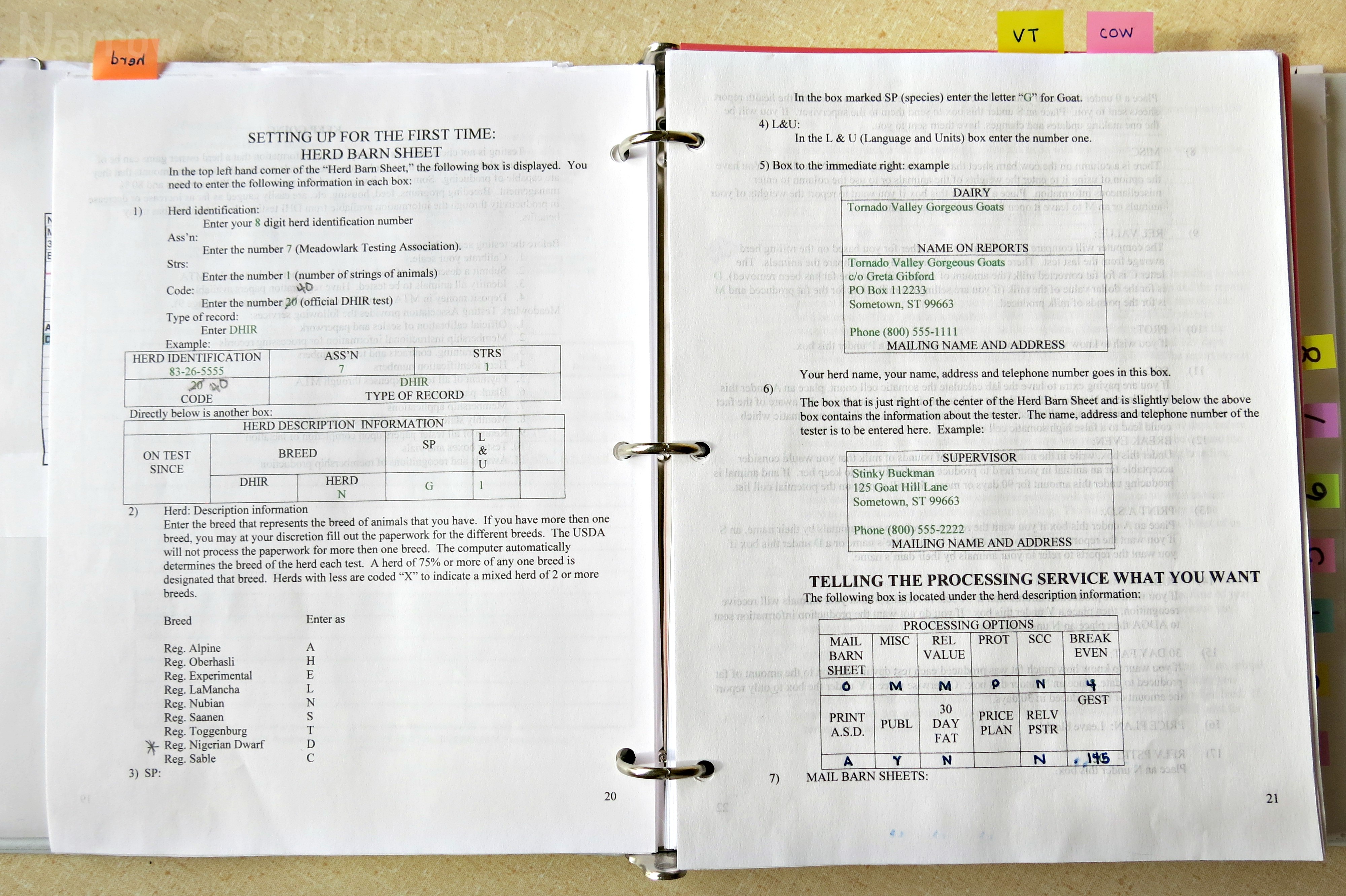 The Lab will send you your first box of vials. The vials are just small 2 oz size plastic bottles with a preservative tablet in them.
With everything in order and paperwork ready to go, you're just waiting for kids to be born and milk to start coming in.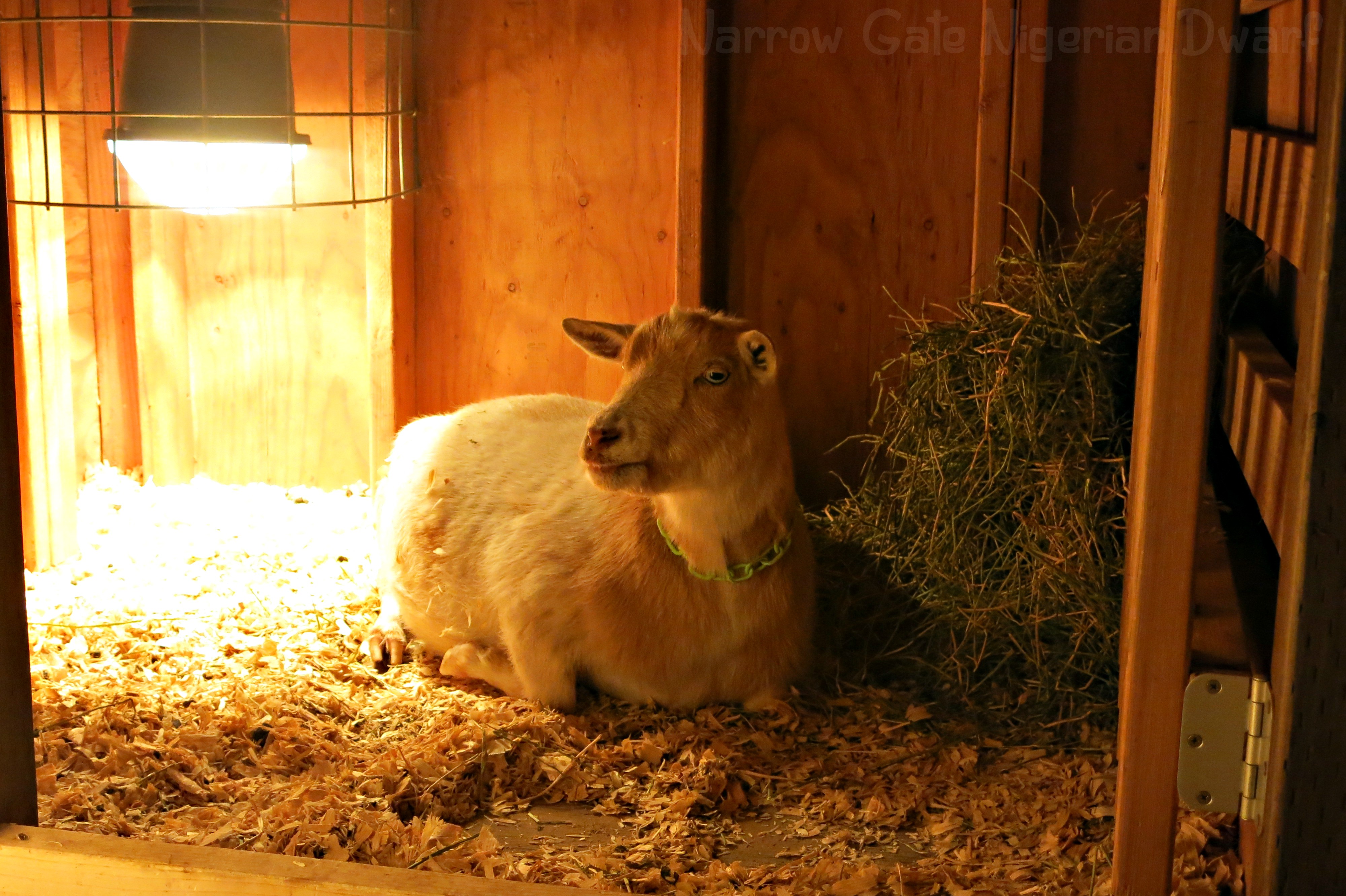 Or maybe your little darlings have already arrived...
If that's the case, let's move onto your first test day. (And don't worry, the hardest part was waiting for them to be born...it's all easy from there.)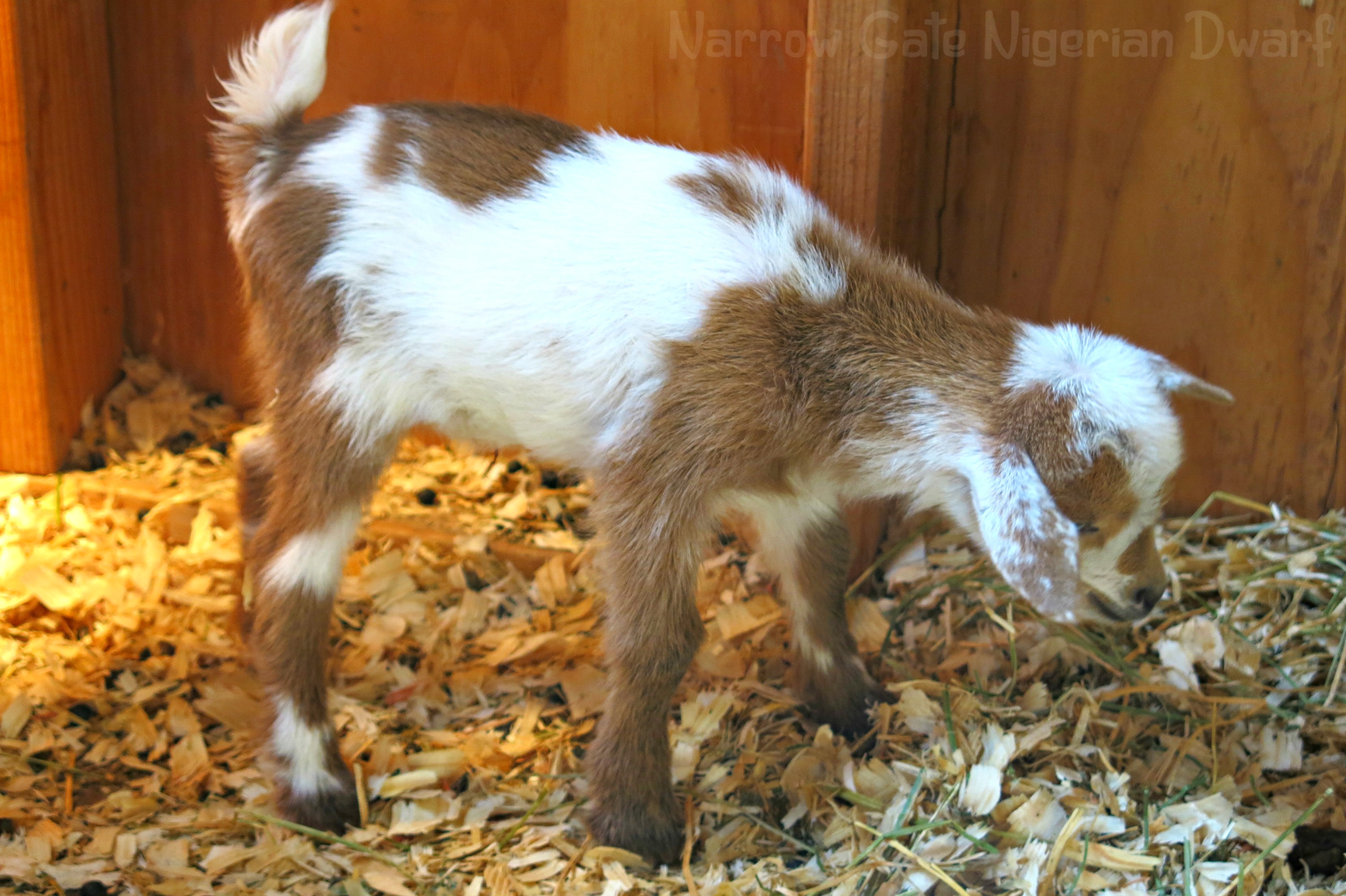 In your milking parlor you'll need some way of telling time, either a watch or clock as you'll need to know your (milking) start and ending times.
Test day milking is done at a 12 hour interval. So if you milk at 6:00 a.m. you'll have your second milking at 6:00 p.m. If you are a OAD (once a day) milker, you can either milk twice on test day, or keep with your OAD schedule and record that weight. (Here is more information on DHI for OAD milkers and their Verification Test.)
Note: To ensure milk weight accuracy, strip each doe out the evening before (12 hours prior), so each test starts with an empty udder.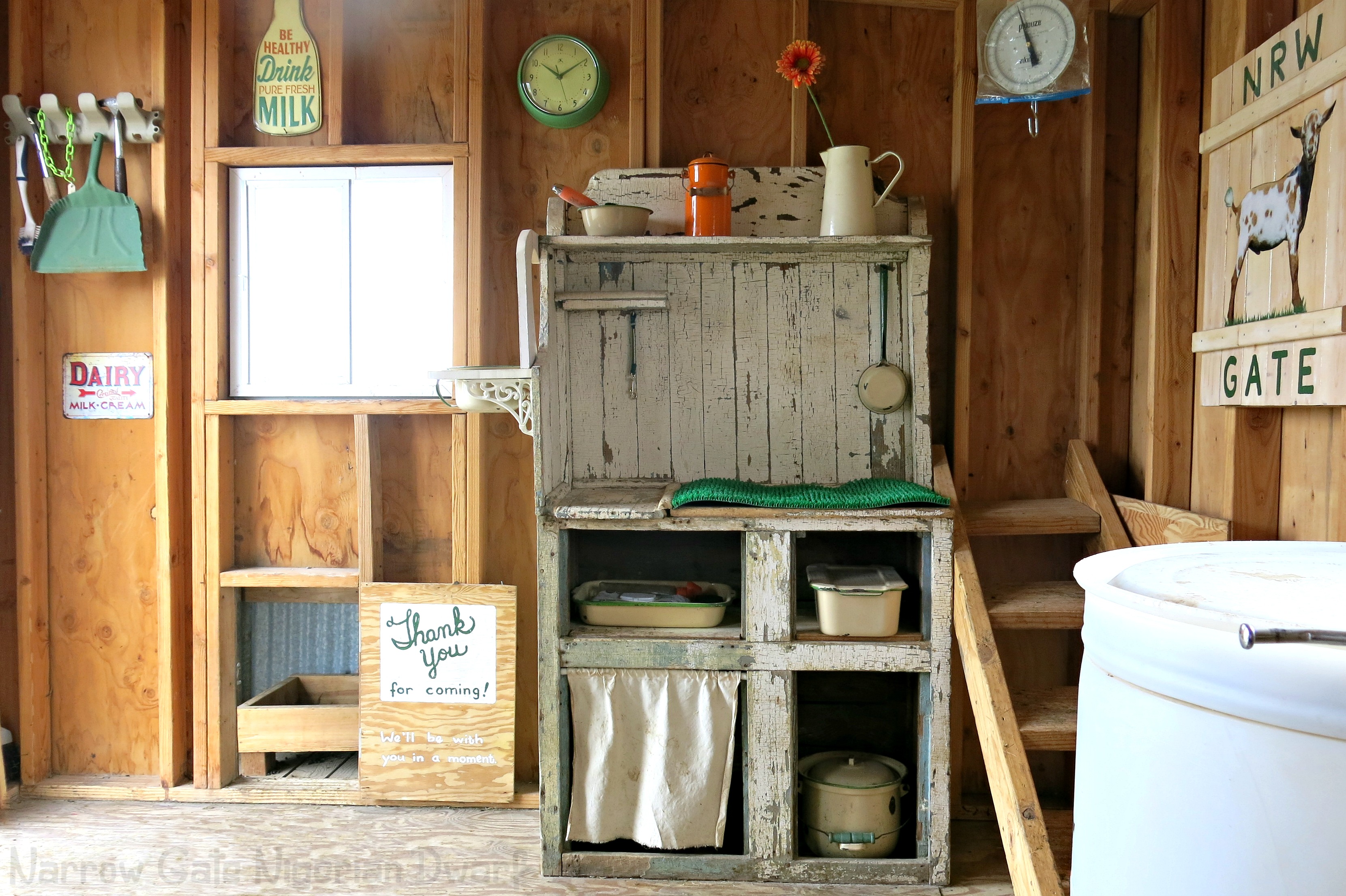 After milking, you'll find some folks do all their weighing, sampling, and filling out paperwork in the barn or milking parlor. I head to the house to do mine.
Here's what my table looks like on Test Day.
Two milk buckets from separating each does' milk. Weight scale and jar for weighing milk. My one ounce stainless steel dipper. Notebook and pen for recording a.m. and p.m. weights along with any notes that would explain that milkings' weight (weather, in heat, bred, etc.). Milk vials with each does' control number wrote on top. And finally, I have my icebox milk pitcher ready for straining afterwards.
On test days it's a good idea to have everything ready to go so it's handy and weighing/sampling runs smoothly.
First order of business is to take weights of each does' milk and record it in a notebook or on a preliminary barn sheet.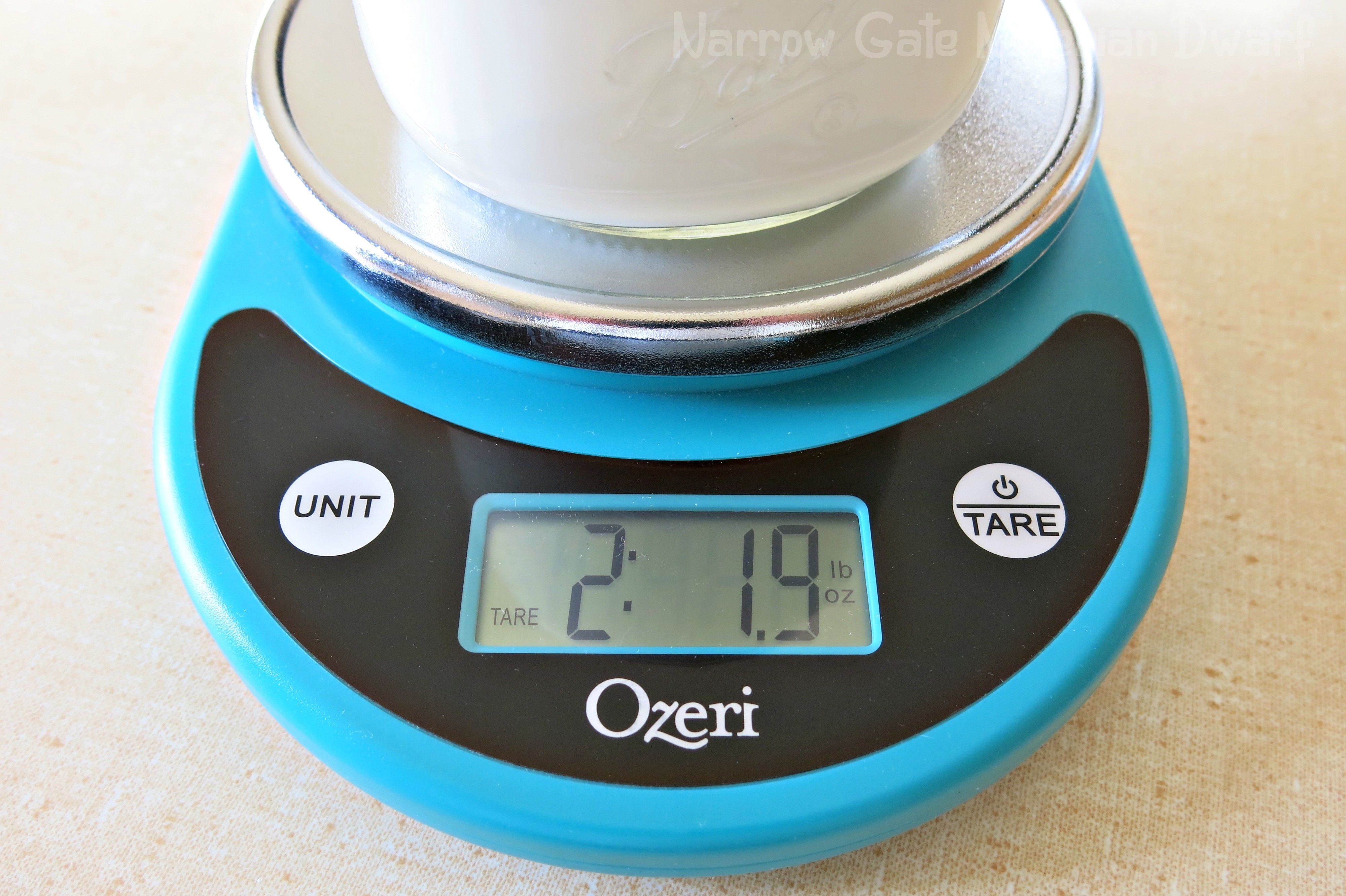 Take the lid off your vials so they're ready.
After weighing your milk, you'll take a 1 oz milk sample. (Samplng directions recommend dumping the milk back and forth between two containers to mix thoroughly, and then stiring it well before taking sample.)
You'll repeat this step with each does' milk. Taking a 1 oz sample of the morning's milk (which will fill the vial half way), and then after you milk in the evening, take another 1 oz sample with that evening's milking (which will then just about fill the vial).
With both morning and evening samples inside...
YOUR MILK SAMPLING IS DONE!
Give them a gentle shake or swirl to help encorporate the preservative throughout. (Milk will turn a different color...that's totally normal.)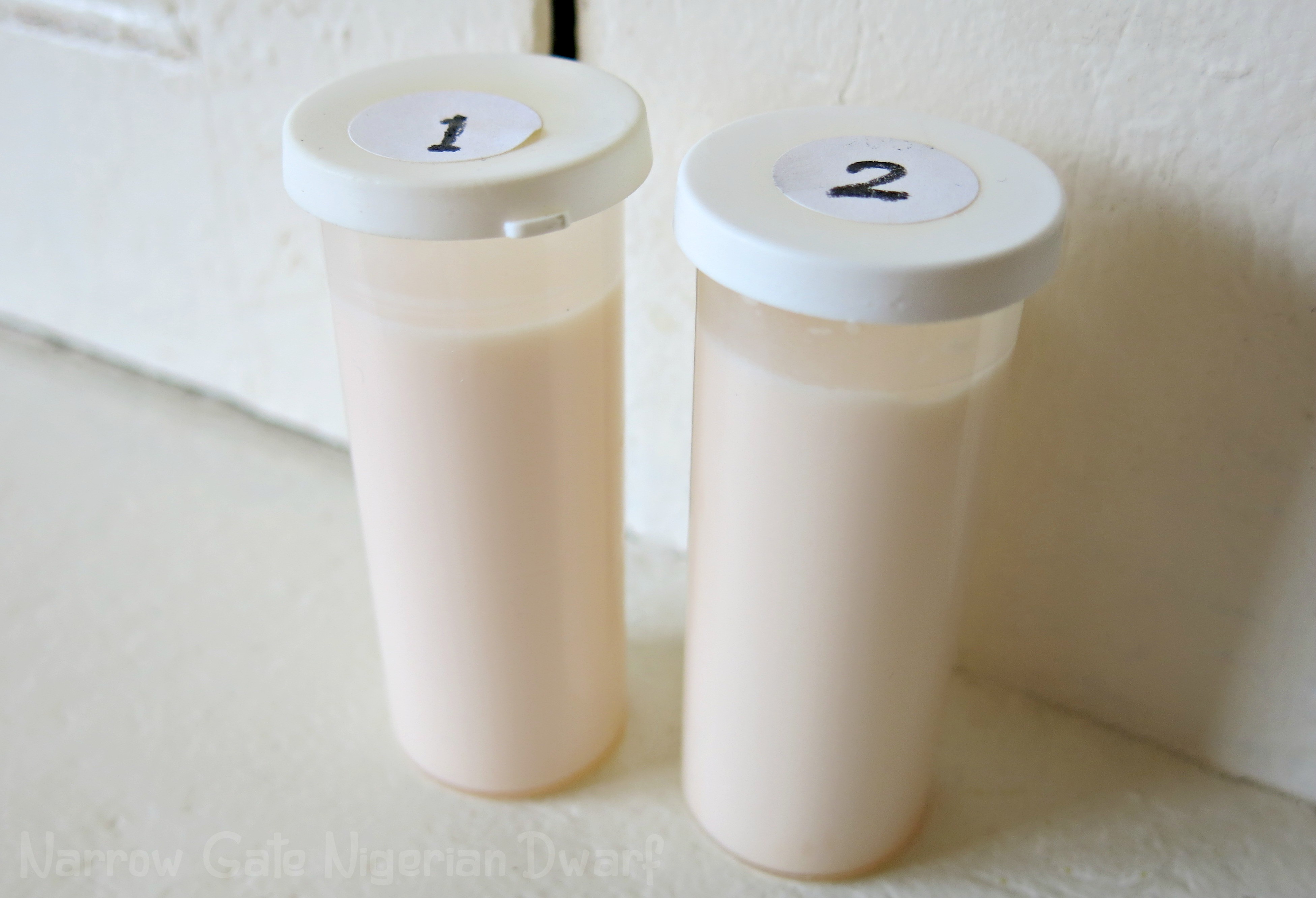 From here you're just filling out your record sheets and getting things ready for shipping.
Our lids do not snap down so I tape the lid on each vial as an added safety precaution.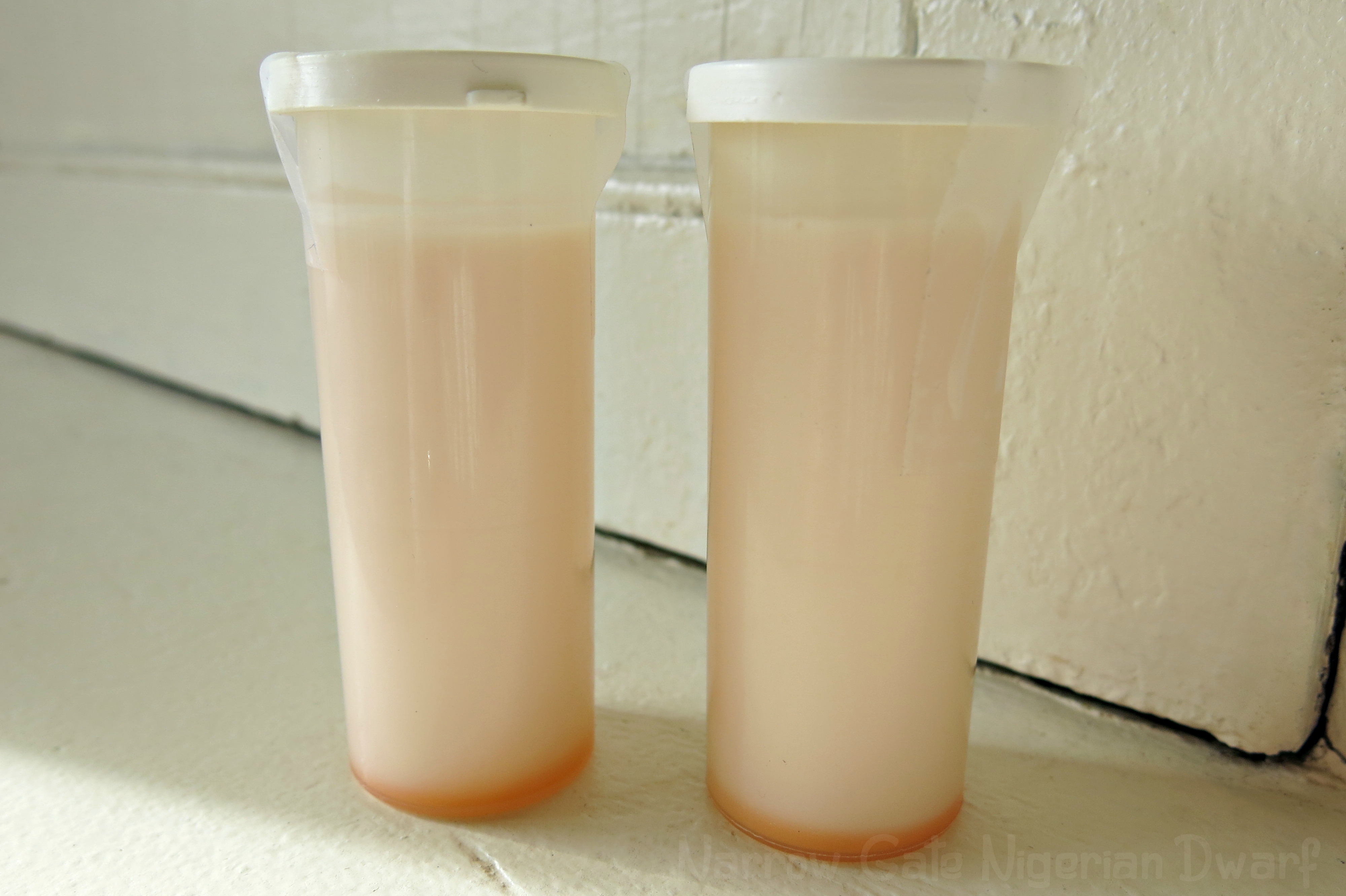 With vials filled and ready to go, let's take a look at the paperwork part of your milk test. (These shown are DHI Provo, and depending on which DHIA you go with and the DRPC they use, they may look a little different.)
Here's the Cow Barn and Herd Barn Sheets you'll be dating, transfering your milking time and milk weights to, and signing. As you can see it's all filled out except for those parts you'll fill in on Test Day. And of that, there are basically only 4 sections on each sheet you will need to fill in.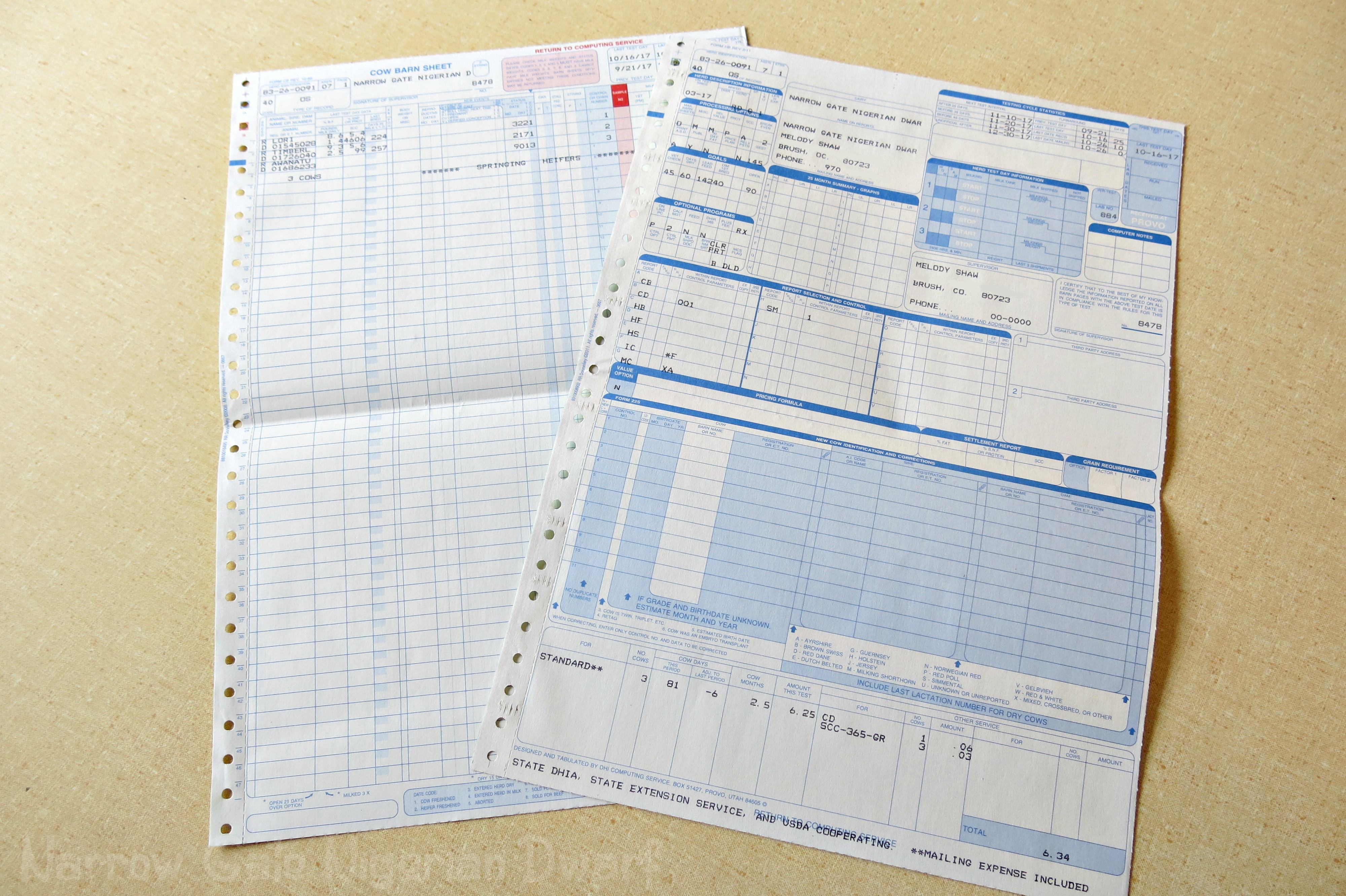 We'll take a look at the Cow Barn Sheet first.
As you can see it's all pretty self-explainatory. The four sections you'll fill out here are Signature, Date, Sample No, and Milk Weights.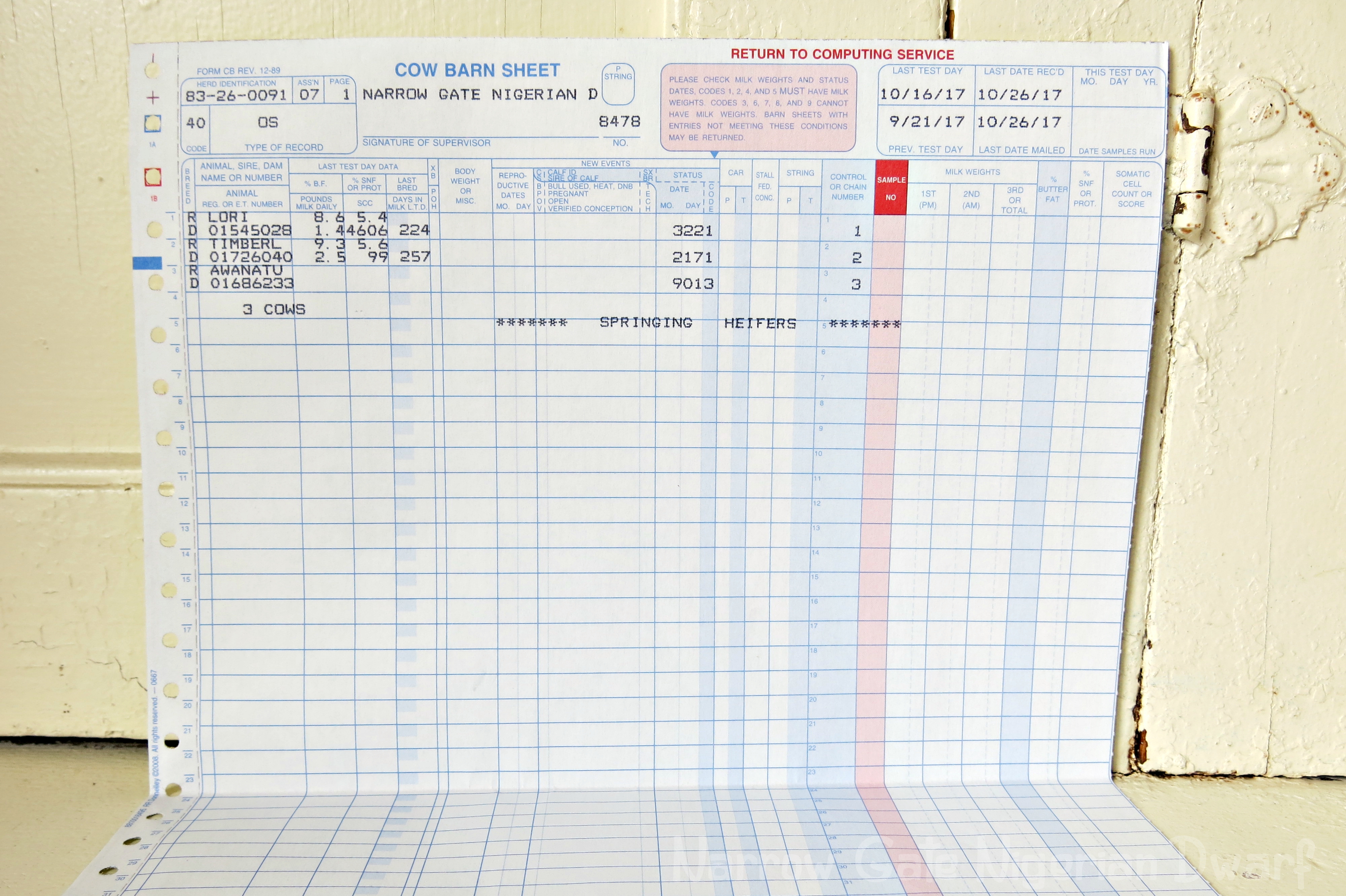 Let's take a close-up look at the Sample No and Milk Weights section.
The Sample No column is for recording each does' corresponding vial number (written on top of each lid). Doe 1's milk will be in vial 1. Doe 2's milk will go in vial 2, and so on.
For the Milk Weights section you'll write in the weight of their morning (AM) and evening (PM) milking.
Note: I do my Milk Test all on one day (as most people do), and don't know why they put 1st (PM) in the box most people use for their morning milk weight, and 2nd (AM) in the box most use for their evening milk weight. Please know, whichever way you decide to fill it out (morning in the 2nd (AM) box and evening in the 1st (PM), or vise-versa), it will not matter...your total will be the same.
Since most people only milk twice a day, for the 3rd or Total box you'll write a squiggly line through the "3rd or" and circle the word Total. (These instructions are found in your training material.)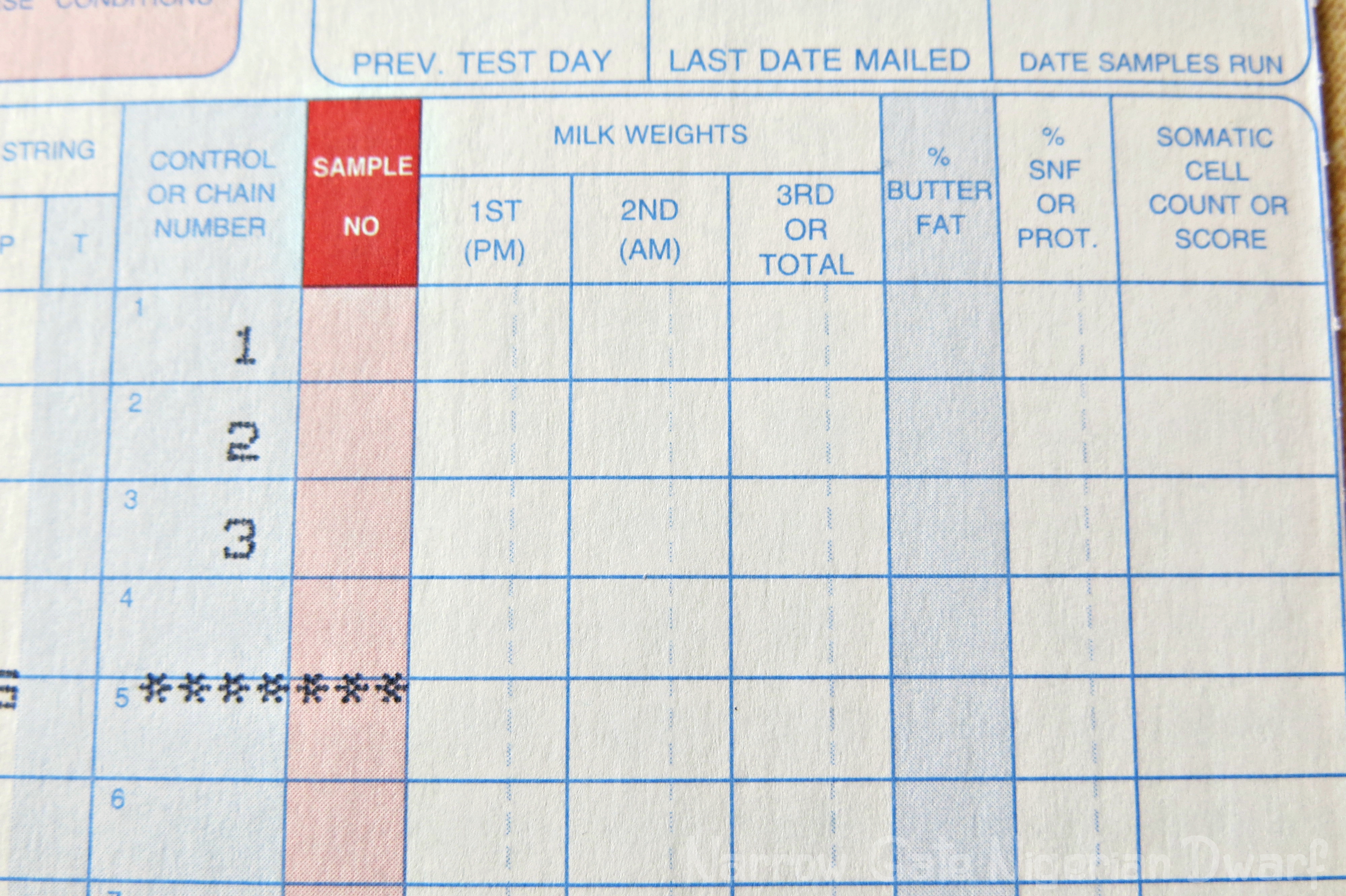 With all the information in place, make sure it's signed...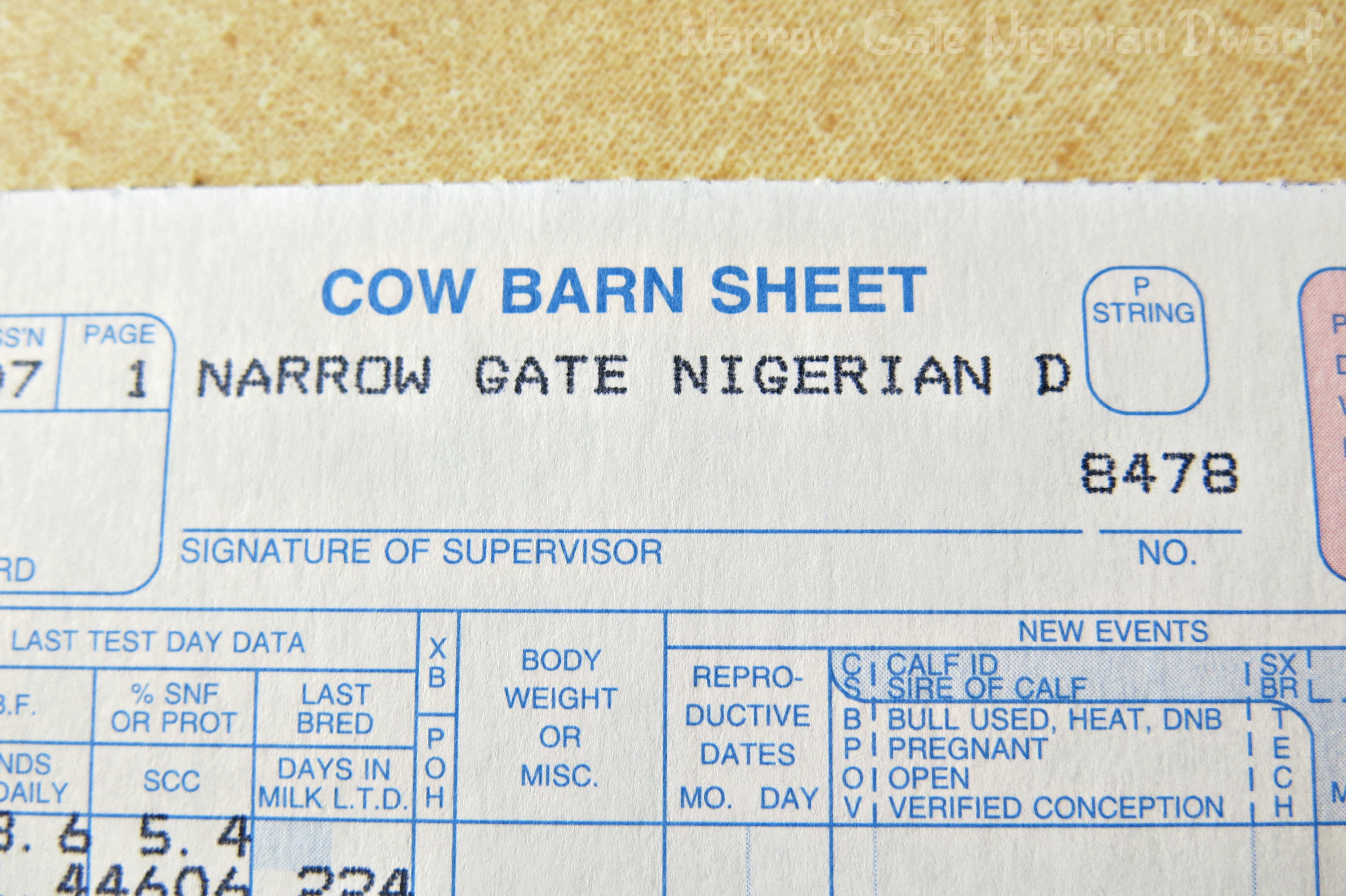 ...and dated.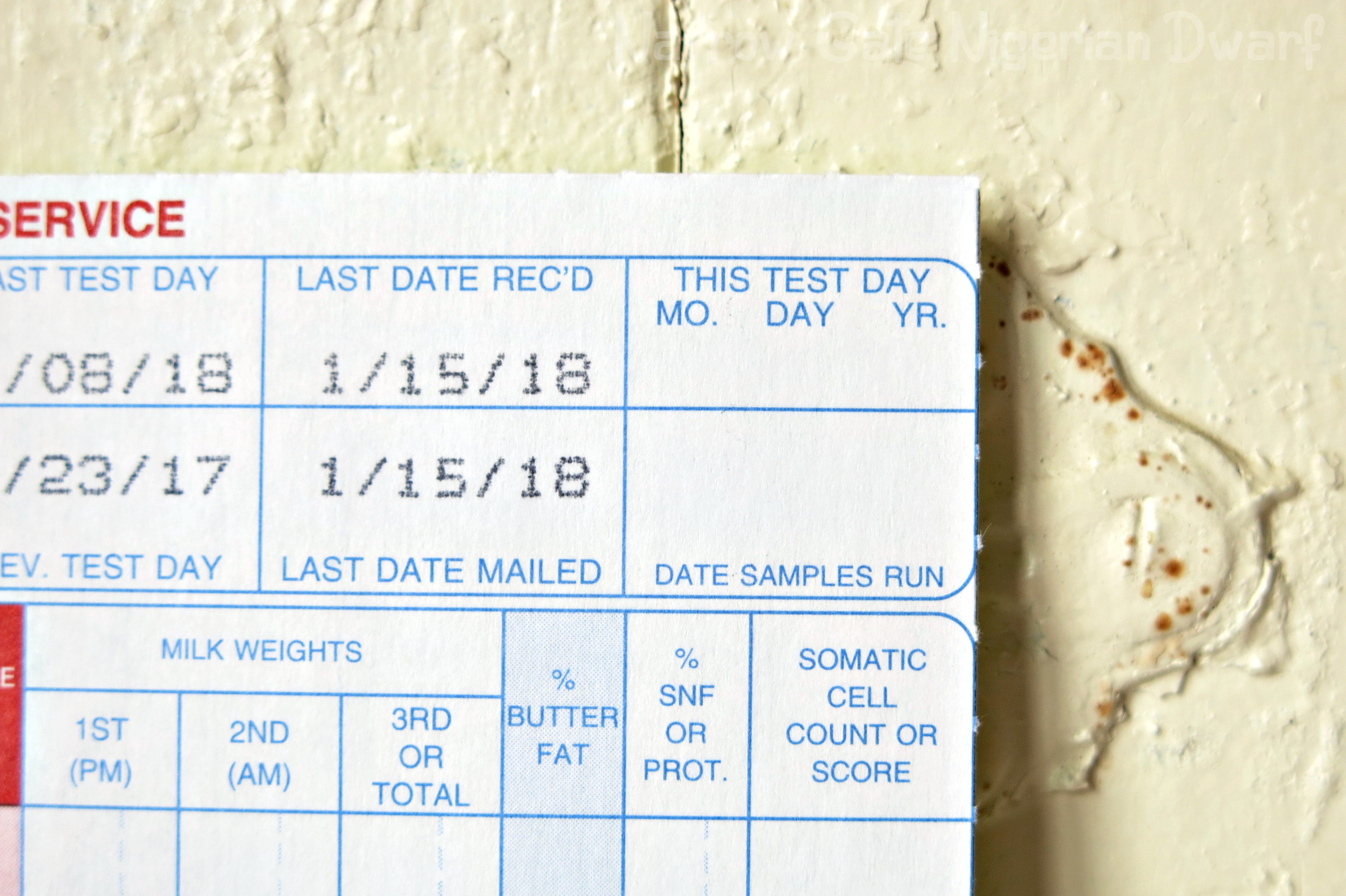 YOUR COW BARN SHEET IS DONE!
Here now is a close-up of the Herd Barn Sheet.
Lots of stuff on there, but don't let that freak you out. Again, there's just 4 sections you'll fill out and it's ready to go.
On this sheet, all the information you'll be entering will be in the section there to the right.
Date it, first thing.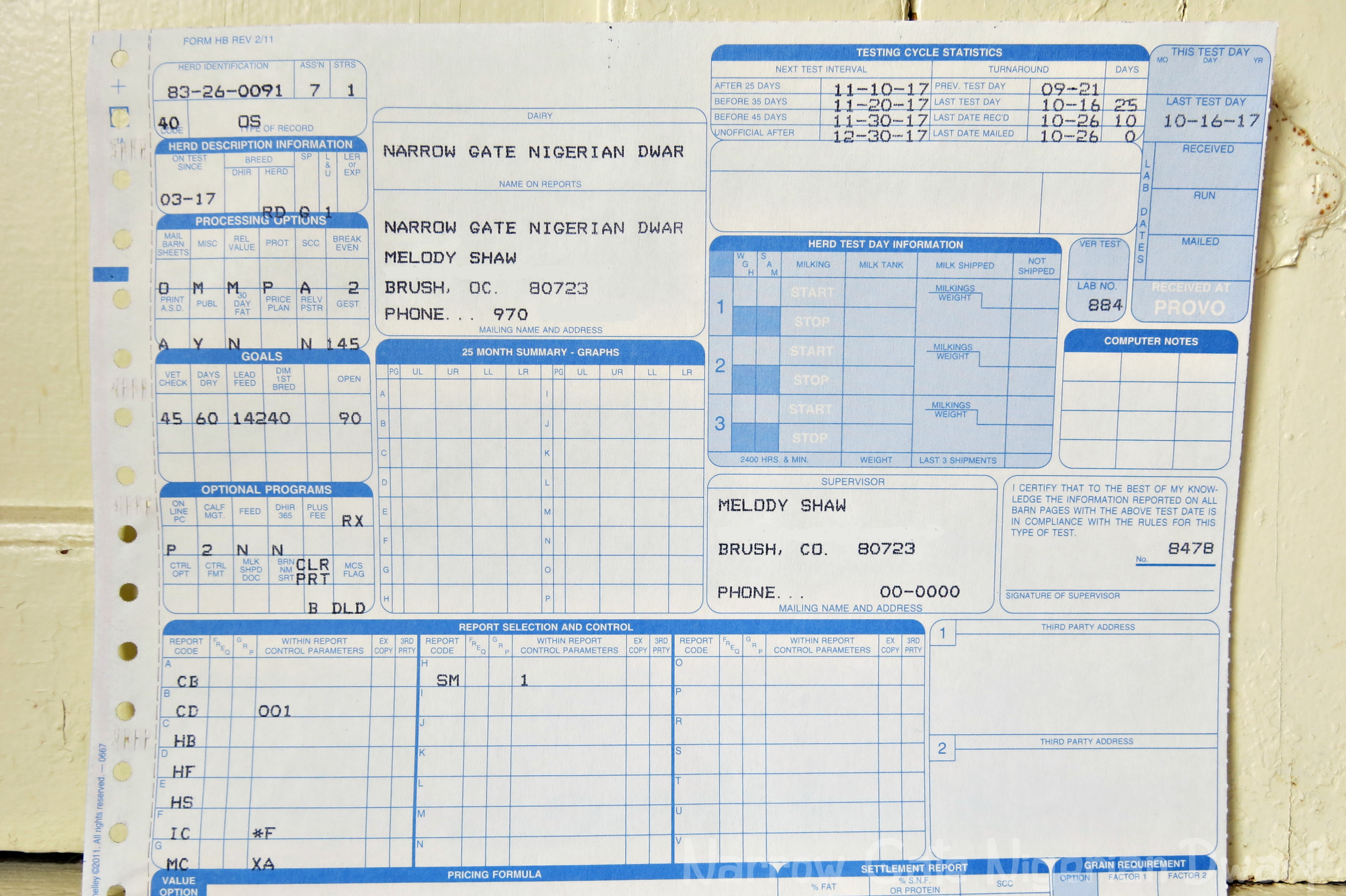 Next move down to the Herd Test Day Information section.
The 1, 2, and 3 are the number of milkings. Again, if you milk only twice a day, you'll be filling out only rows 1 and 2.
The WGH and SAM columns are for recording how many milkings were weighed (WGH), and how many milkings were sampled (SAM).
Here's an example, if you have 5 does in milk and everything goes well (no one knocks over the bucket, kids don't get to Mama on Test Day and drink the "tank" dry, milk doesn't accidently get dumped, etc.) and you come up to the house with five does' milk, you can write in after weighing/sampling that you have 5 that you weighed (WGH), and 5 that you took samples (SAM) from.
The Milking section is where you'll record (in Military Time) your start and stop times. I hand milk two does and start at 6:00 a.m. (06:00), and finish 15 minutes later at 06:15. The evening milking takes 15 minutes as well so I mark my time at 18:00 and end time as 18:15.
If you have just a small herd and don't have a Milk Tank that next collumn will remain empty.
Milk Shipped is for recording the total weight (all does combined) of your morning milking (row 1), and evening milking (row 2). You can get these weights from your Cow Barn sheet's Milk Weight section and total them up.
Not Shipped is for recording those does' whose milk you weren't able to weigh and/or sample. An example of this would be a doe who recently kidded. You can weigh the milk (to have record of that), but cannot send in a sample due to the quality (amount of colostrum) in the milk.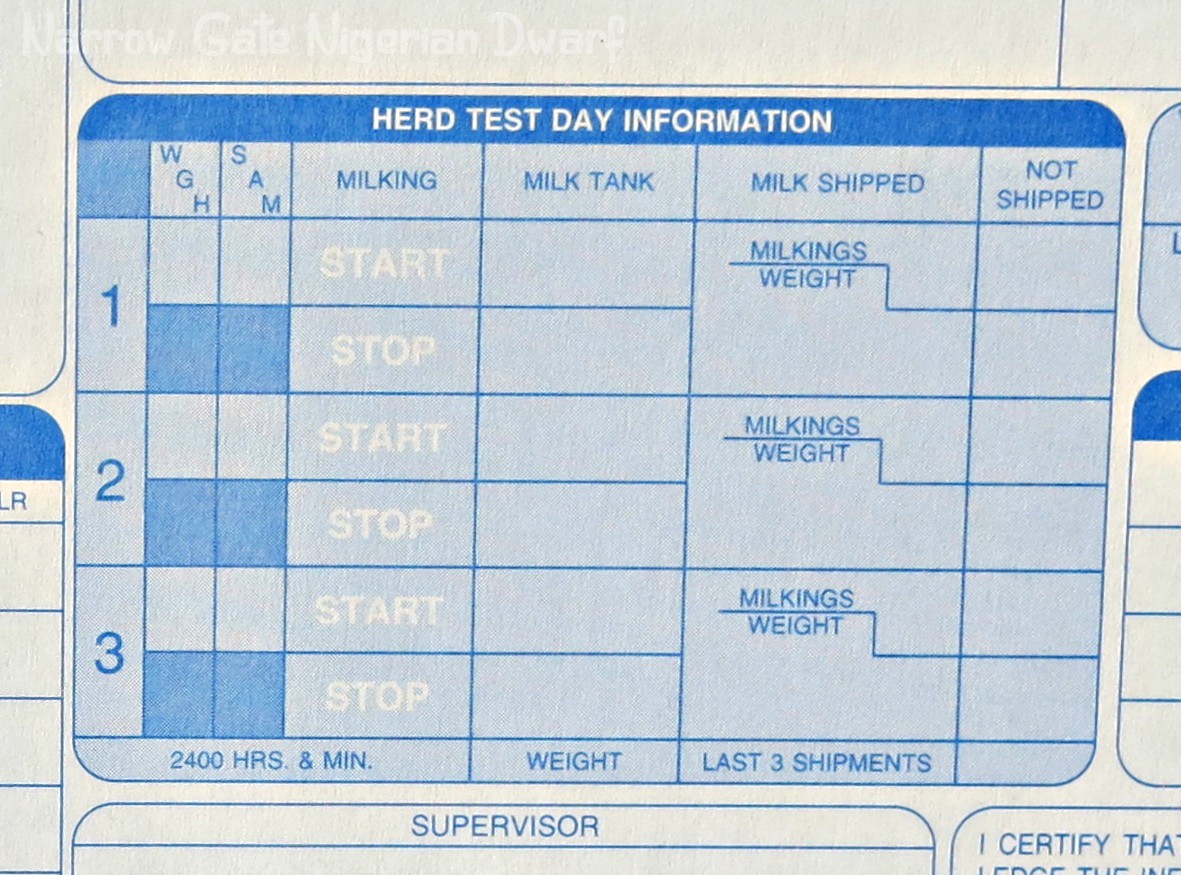 Just to the right of the Herd Test Day Information section is the VER TEST box. This is where you note if it's a (R) Regular Test or (V) Verification Test.
Note: I'm explaining a (R) regular milk test but if your plan requires (or you choose to do a VT), you can find step-by-step instructions in your training materials that were sent to you. Here too is ADGA's Verification Test Form along with their Verification Test Instructions. (If your DHIR is American Goat Society, here is AGS DHI Rules and Procedures.)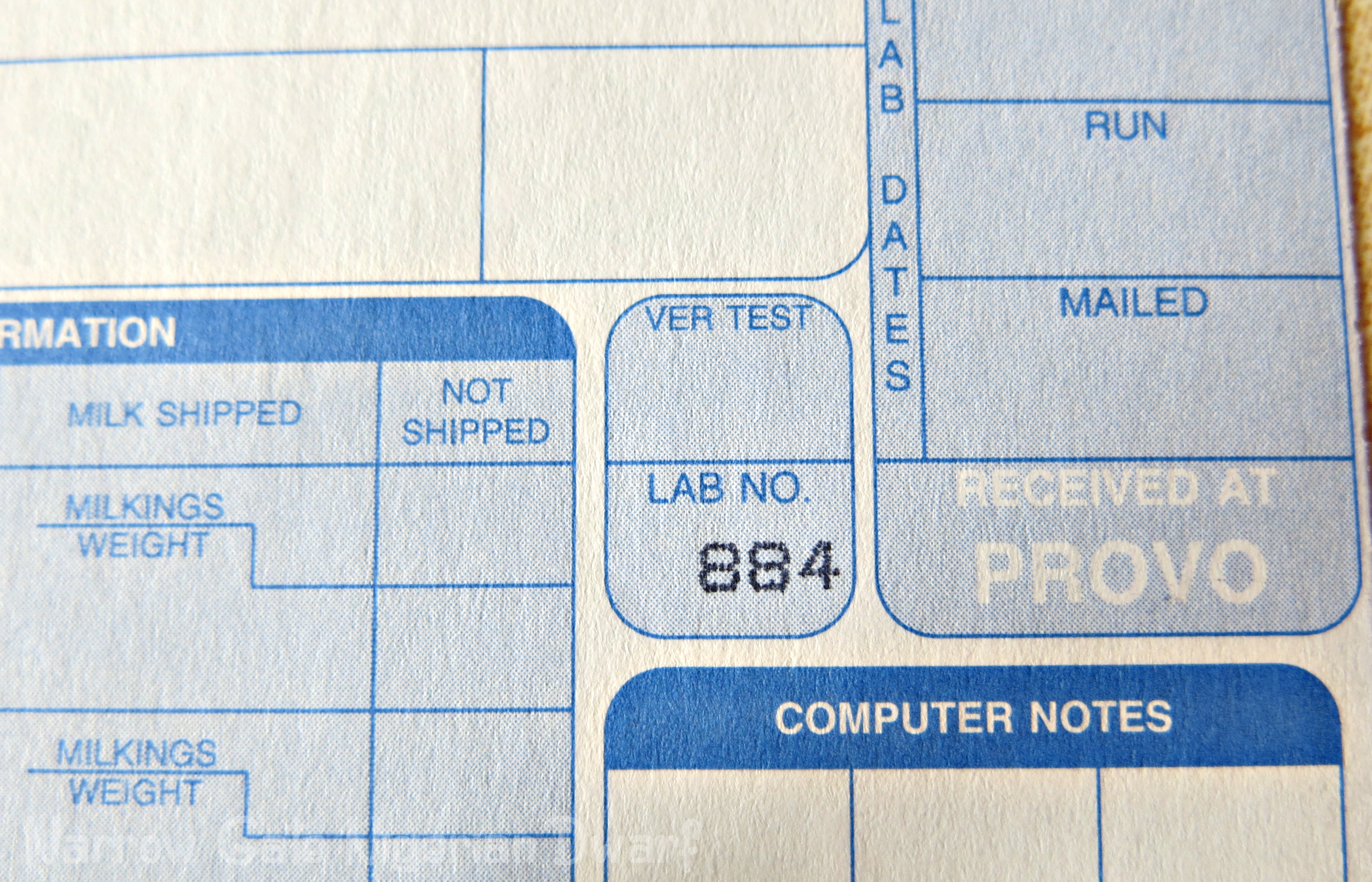 At the bottom of this sheet you'll note a New Cow Identification and Corrections section. This area will be left blank unless you have added a new goat to your herd, or need to make any corrections known on your DHI record.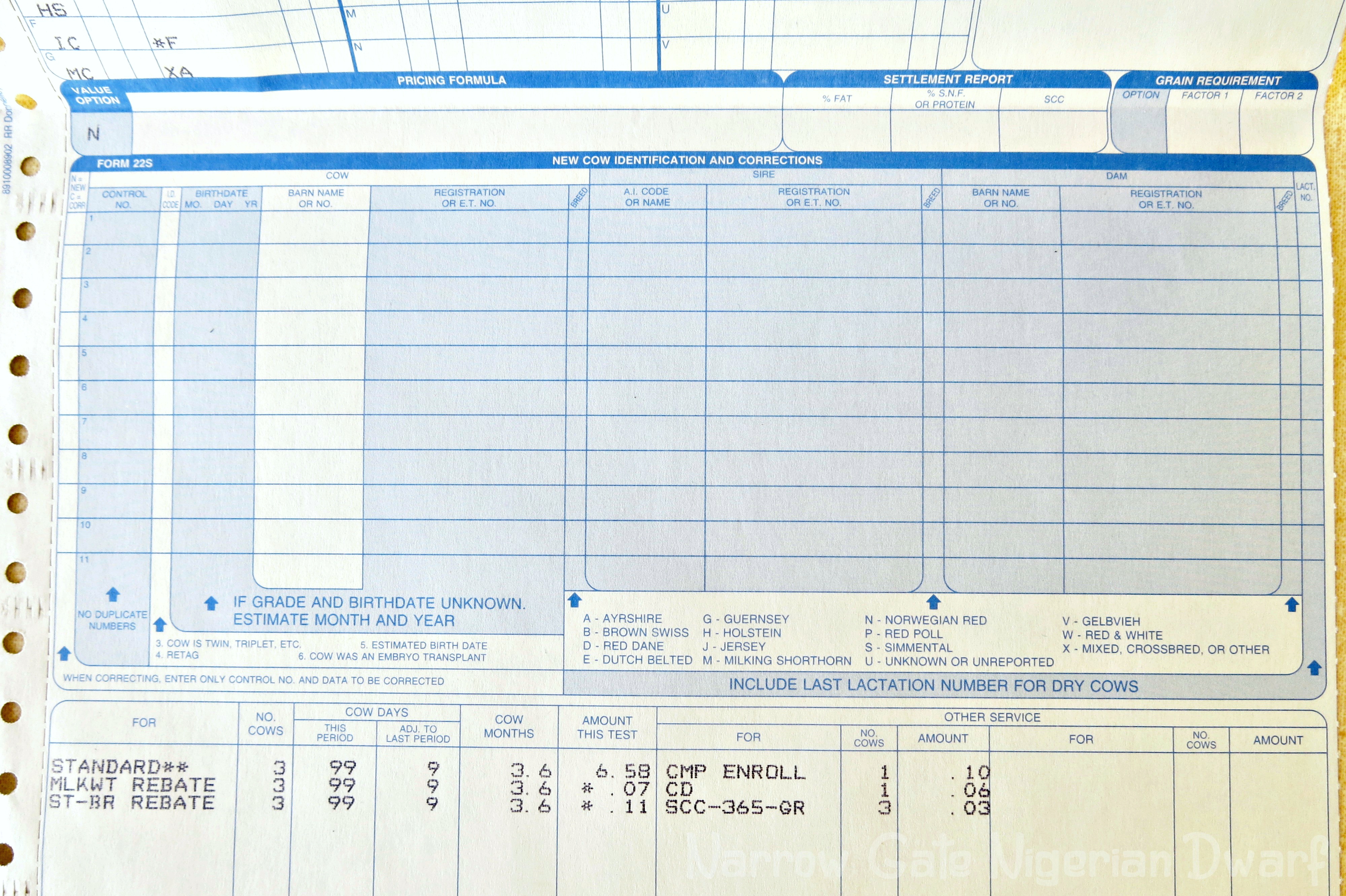 With all your milk test information filled in (and any new goats/corrections declared), your last step for this sheet is to sign it.
HERD SHEET IS DONE!
You can tear along perferated edges and put white, blue, and yellow sheets together so they're ready for mailing off in each respective envelope or box.
The below photo shows everything ready to package up for the Lab.
I make my own box so it's never bigger than what I need or more expensive to ship than necessary. (Here's links for measured and unmeasured styles of construction.) A small box like the one below (containing two milk samples, packing material, and blue sheets), runs just over $3.00 in shipping.
It's a good idea to put your milk vials and Lab paperwork in their own baggy (to protect in case of spilage). Then it's just adding packing material to keep things from banging around while making it's way to it's destination. We use peanuts and bubble wrap but have also used crumpled up newspaper and that works just fine too.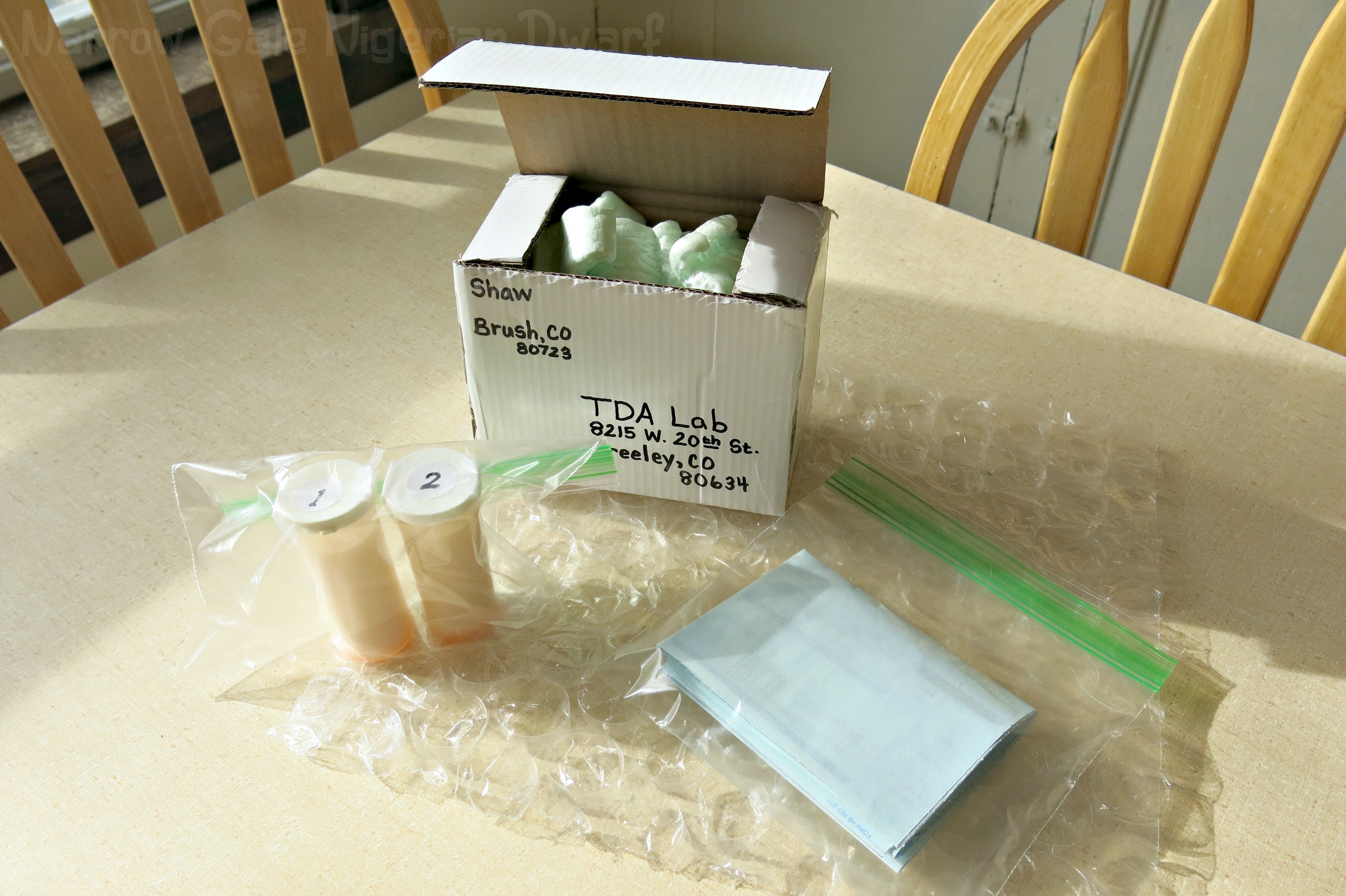 With the Lab's blue copy of my Herd and Cow Barn Sheets on top, it's ready to tape shut and mail off at the Post Office.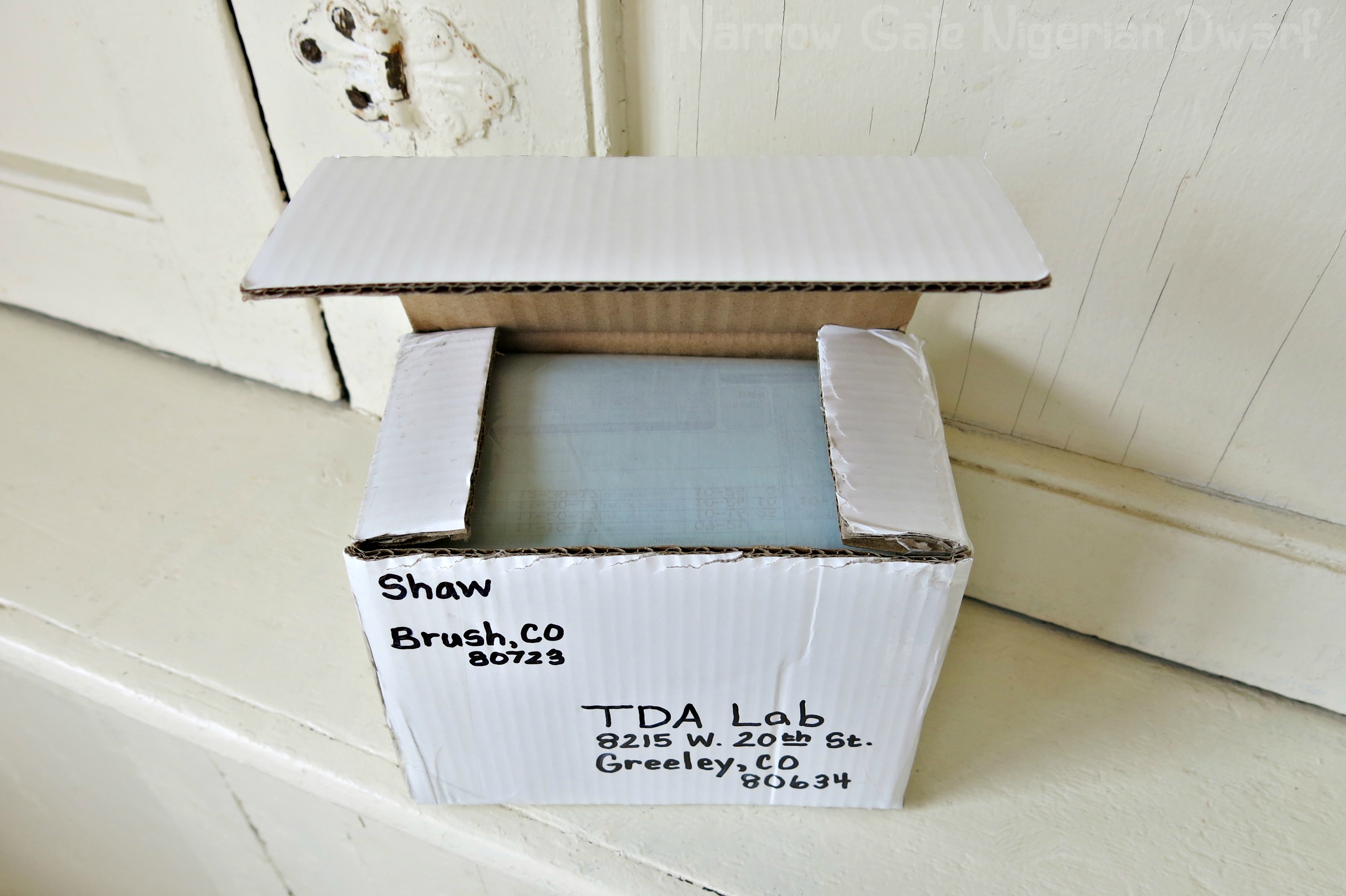 The white and yellow sheets will be mailed in envelopes to my DRPC (white sheets), and my DHIA (yellow sheets).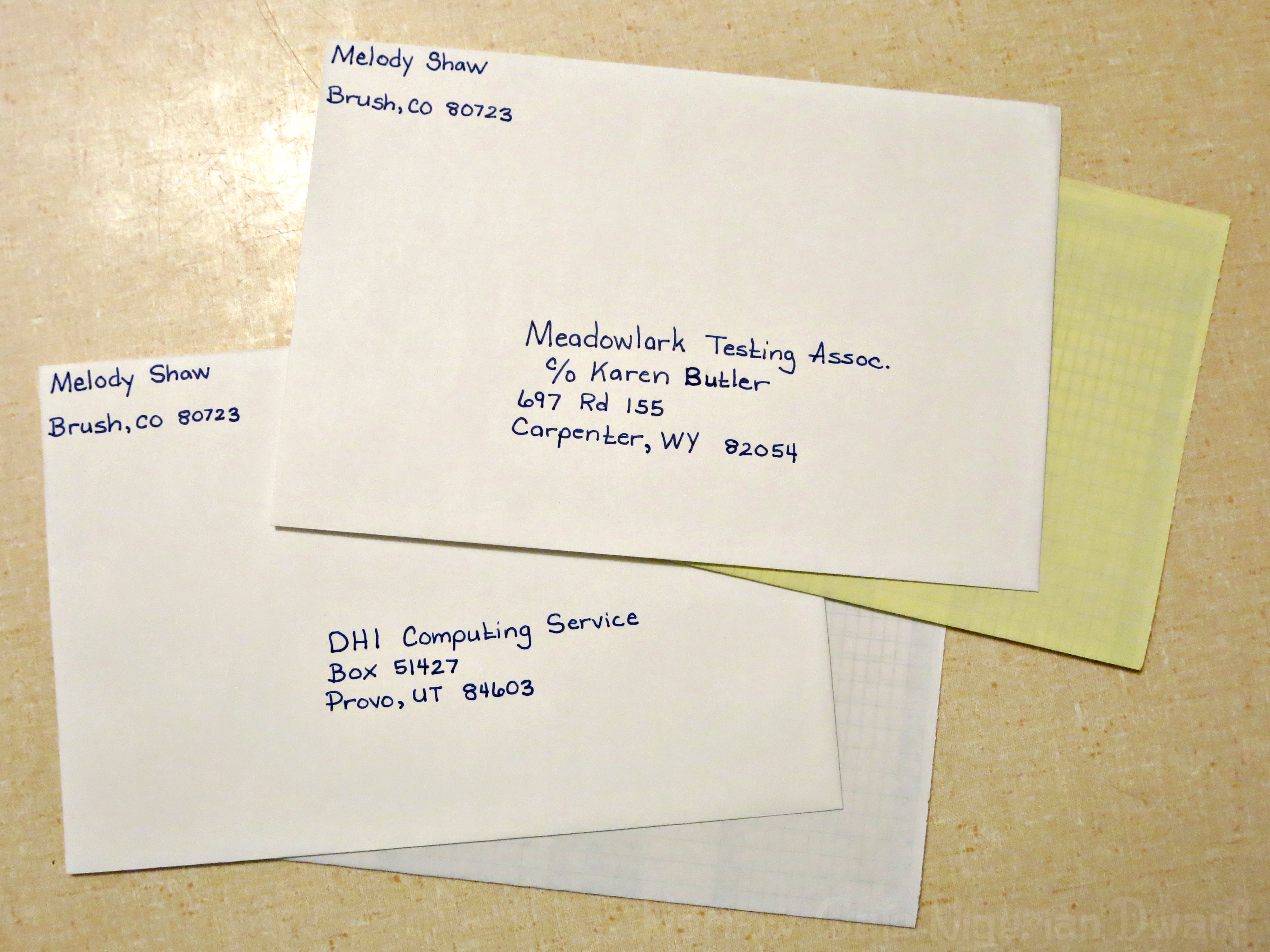 And...that's it! You've officially got your first test done for the books. Now when sharing about a specific doe, or selling kids from her, you have production information that establishes value.
In a week (or so), you'll get printed sheets back from your DRPC showing test day and milk component information and that's always fun to look through.
With that, your girls and their offspring, are on their way to * (stars) and + (pluses). That's quite an accomplishment!
Know that your DHI milk testing efforts will be appreciated for generations to come.
Yep...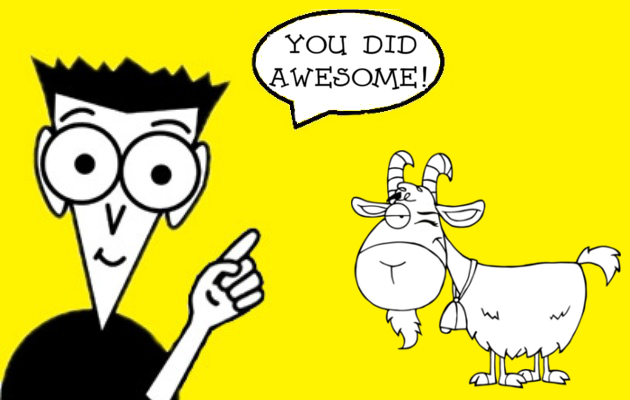 To make your own FOR DUMMIES book/poster you can use a Meme Generator and/or follow YouTube video instructions.