"that we might humble ourselves before our God, to seek from Him the right way for us and our little ones and all our possessions." Ezra 8:21b
Narrow Gate Nigerian Dwarf is located near Brush, CO.
We Dam raise here at Narrow Gate, but for those that need to be bottle fed we follow a feeding routine using goat milk. Having sweet friendly does and spending time with them as they raise their little ones proves a gentle trusting temperament in the kids we have to offer. Each one has grown and been socalized in an environment where they have only known kindness from the people around them.
In purchasing from us, we ask that you please have a good understanding of bottle feeding and raising dairy goat kids so you are prepared for their arrival.
VACCINATIONS: CD&T coverage comes in-utero as we vaccinatate our does the last month of pregnancy.
SOLD GOATS: We expect the buyer to make every effort to pick up their goat as soon as they can. We are open to weekday and weekend appointments. If arrangements are made for pickup at a later date, the buyer is expected to be there at the agreed upon time. If there is a postponement on our part there are no additional fees, however, if there is a postponement on the buyer's part there is a $10.00 a day charge for the care/feed of their goat. We thank you for understanding.
BUCK SERVICE: If you purchase a doe from us and would like her bred before she leaves, we are sometimes able to offer buck service before she leaves. Service fees are $100.00 and doe will then be sold as "exposed". Alternately, if you purchase an "open" doe from us and she subsequently kids, the service fee clause continues to apply post-sale. Once fee is recieved we will issue the necessary Service Memo for registering progeny.
DEPOSIT: Deposits show earnest intent of purchase. They are half the purchase price and are non-refundable.
REMAINING BALANCE: If wanting to pay on the day of pickup, cash is expected. If paying by check or PayPal, balance should be received 2 weeks before.
WITHOUT PAPERS: Goats "offered without papers" are pets. It is expected that bucklings be wethered and does/doelings not be used for breeding.
SHIPPING: We do ground and air shipping, but prefer pickup. Shipping/transporting arrangements are made by the buyer. Please understand with each that there are additional fees (ie. Veterinary Health Certificate, crate, etc.). If you would like to ground ship, here is a list of Transporters that come recommended.
Disbudded, Brown-eyed, Piebald Chocolate w/ White Poll & Moonspots
3/26/20
Buckling SOLD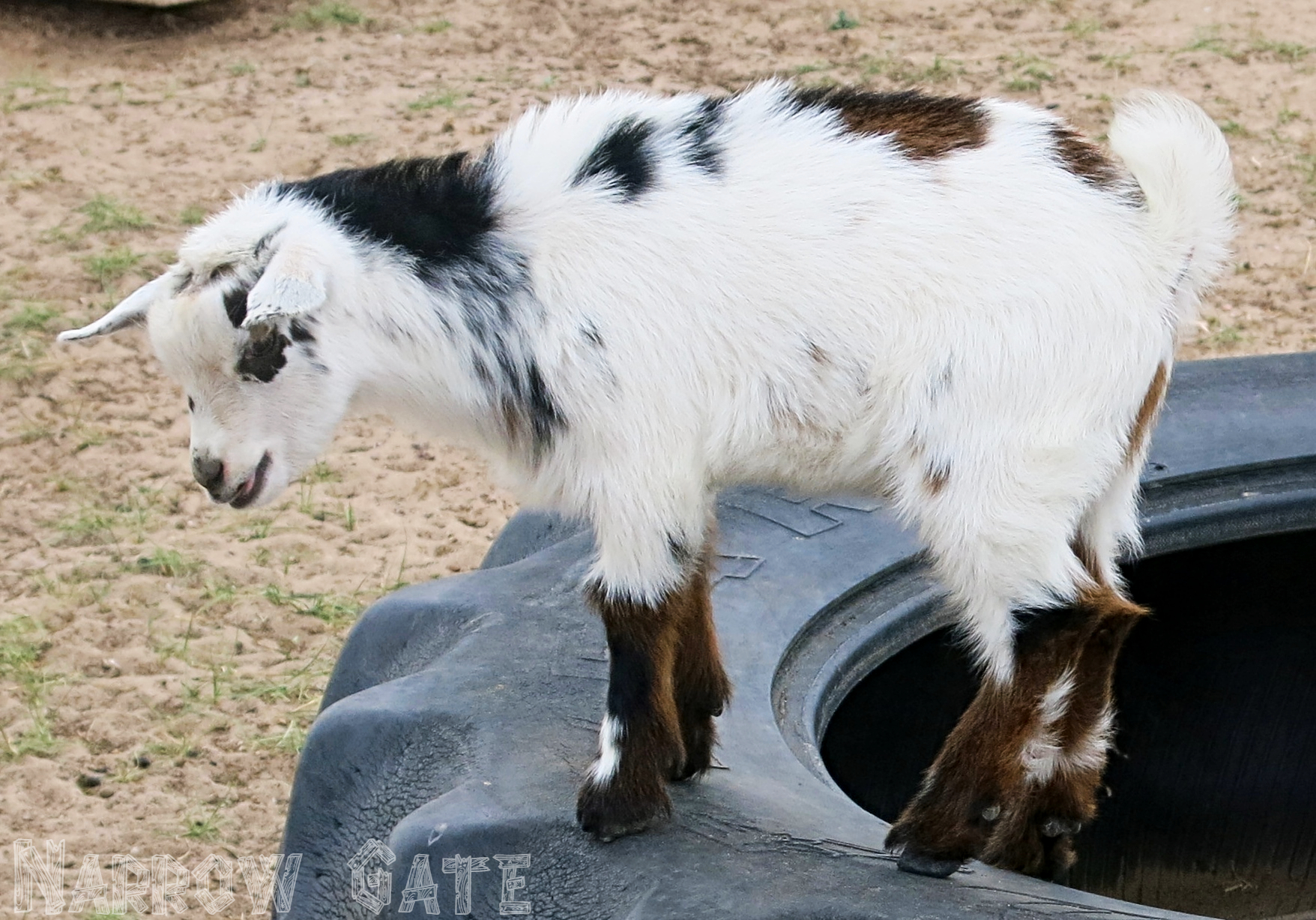 Disbudded, Brown-eyed, Abundant White Broken Buckskin

4/30/20


SOLD

->



Disbudded, Brown-eyed, Black with Abundant White Buckling

4/23/19


Buckling SOLD
If we don't have what you're looking for, please check out Southern Grace in Lone Grove, OK.
Copyright © Narrow Gate Nigerian Dwarf 2015-2020. All rights reserved. Hosting byWebHostingHub.com